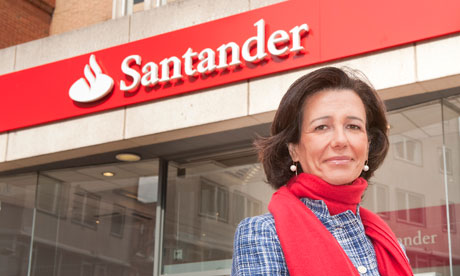 According to the London Sunday Times, Ana Botin, the CEO of Santander UK, is considering a bid for National Australia Bank's UK businesses Yorkshire and Clydesdale banks.
This comes after Santander withdrew from their bid for the Royal Bank of Scotland 316 branches late in 2012 (see
http://www.itsafinancialworld.net/2012/11/for-sale-316-bank-branches-must-go-by.html
) giving the reason the state of the RBSG technology.
Santander in the UK is in the awkward position that having received £4.5bn of capital to complete the acquisition from RBSG from Santander Group in Spain and putting it on the UK balance sheet, the FSA has refused to allow the money to be sent back to Spain. This means that Ana Botin needs to decide what to do with it as Santander in the UK has one of the best capital ratios of UK banks.
Acquiring the UK operations of NAB would make a lot of sense for Santander. Yorkshire and Clydesdale banks would bring business banking market share, which aligns with Botin's ambition to grow a strong business banking business in the UK to take on the big four banks. Santander in the UK has a good track record for successfully acquiring and integrating UK banks starting with Abbey National and more recently Alliance & Leicester and Bradford & Bingley. There would be clearly significant costs savings to be had from Yorkshire and Clydesdale both from moving back office operations into Santander centres and from migrating customers onto Santander IT platforms. Santander has already invested in upgrading their systems to handle business banking in anticipation of the RBSG deal going through so this would be one way to get a return on that investment.
Cameron Clyne, the CEO of National Australia has on many occasions made it clear that he does not see the northern hemisphere operations as part of the long term strategy for the bank. Both Yorkshire and Clydesdale have been starved of much needed investment for many years. However Clyne has, up to now, been reluctant to sell the banks for the prices that buyers want to pay, not wanting to realise the inevitable writedown that would be required with the consequential drop in capital on the balance sheet at a time when capital is king.
However Nab is seen to be falling behind its domestic competitors (Westpac, ANZ and Commonwealth Bank) and Cameron Clyne needs to be seen to be doing something to change that position. Analysts in Australia have been calling for him to dispose of the albatrosses that are Yorkshire and Clydesdale banks.
Cameron Clyne may hope that by the story once again running that Santander is interested in Nab that this may start a bidding war with the likes of the resurrected NBNK and JC Flowers looking to ace Santander. However Santander has a reputation for never over-paying for acquisitions, indeed getting bargains as was the case with both Alliance & Leicester and Bradford & Bingley, so Cameron Clyne cannot hope to get a fat price from Ana Botin.
Should Santander get the Clydesdale and Yorkshire banks it will not be good news for most Nab employees in Scotland and Yorkshire since it will largely be the customers and the business banking skills that Santander will be keeping with the rest being discarded.
With both Cameron Clyne and Ana Botin needing to dmeonstrate to their respective markets their leadership it could be very interesting to see over the next few weeks and months whether a deal can be struck.