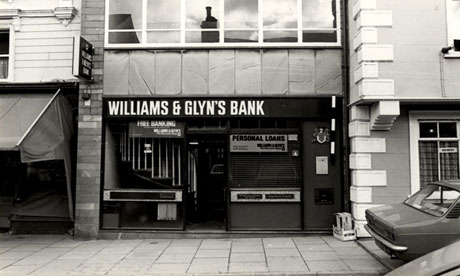 On the face of it the Lloyds Banking Group's and the Royal Bank of Scotland Group's forced disposal of their branches look quite alike. Even the numbers of branches being disposed of, in a dyselexic way, are the same 631 and 316 respectively. Both were imposed by the European Union as a result of state intervention. to save the banks brought about by the 2008 financial crisis. Both Groups have struggled to find buyers for their branches. Both banks have had potential buyers walk away from their deal late in the day - the Co-op in the case of Lloyds Banking Group and Santander in the case of Royal Bank of Scotland Group. Both are now pursuing floatation of the severed entities due to a lack of interest from potential buyers.
However fundamentally the offerings for potential buyers are different and therefore the people and organisations that should seriously consider and be considered for the acquisitions are quite different.
The reason that Lloyds Banking Group have been instructed to sell 631 branches and their associated customers is because, following their arms being severely twisted by the Government to save HBoS by acquiring it, LBG was left with a very dominant market position in unsecured lending, mortgage and current accounts for consumers whilst being underpinned by government support.
For RBSG selling their 361 branches was both due to the level of government support that required to save them from their self-created problem and their overwhelming dominance of the SME market segment. Thus the customers that RBSG is selling are small and medium sized business customers.
Some might say that retail and SME banking are not that different. Indeed that debate has been running for decades with banks periodically changing where SME banking sits in their organisation between within the retail and within the corporate bank. Business Banking has not sat comfortably in either organisation being neither fish or fowl.
As is being evidenced by Santander in its results, Business Banking is nowhere near as straightforward as retail banking and requires significantly more capital for every loan. Santander who is one of the few banks that has been able to build a global retail banking platform (that has enabled to make numerous successful acquistions across the globe) has found it very challenging to bend their Partenon banking platform to support UK Business Banking customers needs. Indeed it was IT issues that were cited by Santander as the reason that the acquisition of the RBSG branches was halted.
The difference from retail banking extend way beyond just capital and technology and into the most important part of banking - the people who work in it and the skills and competencies they require. It is not impossible to move from retail banking to SME banking, but it requires a different mindset and different skills.
Another difference between the LBG and the RBSG disposals is the condition of the IT systems. Lloyds Banking Group has, as a result of the acquisition of HBoS and the need to fundamentally reduce costs, been through an exercise of migration and simplification of banking systems. The starting point, the TSB systems, were newer and better designed than either Lloyds Bank, RBS or Natwest systems, so provided LBG with a far better starting position than RBSG finds itself in. The problems that RBSG has had with its banking platforms over the last few years are well documented and have been very obvious to their customers.
Whoever acquires or enters into a joint venture with RBSG needs to recognise that they will need to partner with RBSG IT for at least the next five years as it is very unlikely that moving onto a new platform and separating from the old one could be achieved any faster than that. This means that the acquirer's business will be dependent upon RBSG being able to provide IT services to keep their business going. This was clearly something that Santander found to be unpalatable.
This raises the question of who should acquire RBSG's branches? Given that the deals risks are already high (amount of capital, market risk, IT risk), then when RBSG considers who to partner with then a consideration has to be which of the potential buyers reduces the deal risk the most whilst still offering an attractive commerical proposition. One of the key ways to reduce the risk is to sell to a buyer who fundamentally understands and has a proven track record in SME banking.
Anacap who's bid is led by Alan Hughes the former First Direct (a retail bank) boss also owns Aldermore the UK banks that focuses solely on SME banking. Anacap has the experience of setting up a new SME bank, putting in new platforms and writing profitable business. This has to count for a lot.
The Standard Life bid (teamed with Corsair Capital and Centrebridge) is being led by John Maltby the former head of SME Banking (and Kensington Mortgages the buy-to-let specialist) at Lloyds Banking Group. This consortium also has the backing of the Church Commissioners, though whether this suggests any divine preference is doubtful.
Finally there is the consortium led by Andy Higginson the former Tesco Finance Director who has experience of working with RBSG when he was involved in the launch of Tesco Personal Finance.
Competition in the SME banking market has changed since 2008 when the EU decision to force RBSG to dispose of market share with the increasing presence of Santander, Aldermore and Handelsbanken, it is a very different market with different regulatory requirements.
So for whoever decides to buy the RBSG branches the latin expression could not be more appropriate - caveat emptor!